Sam Turner, Lead Climber with Waitakere Tree Services has used the new Shizll Easy Balancer since the beginning of the year. Here are Sam's thoughts:
The Shizll 'Easy Balancer' is a ready made balancing system which allows arborists to quickly and easily balance horizontally orientated limbs while dismantling or pruning trees. Its advantages over more traditional balancing systems are its ease of adjustment which allows the user to adjust the angle between each leg and therefore put the centre of mass beneath the attachment point.
Since putting it through its paces on a variety of dismantling jobs across Auckland, I can confirm that it lives up to its name and has made limb-balancing (or 'spider-legging') something that I consider doing on a regular basis.
The system consists of: a length of rope (two different sizes are available), a four holed Shizll 'SpiderPlate' (large or small), and a three-eyed friction hitch (yes, it has three eyes).
I bet I could make that myself

Arborists who like to express their creativity through combining shiny pieces of aluminium with colourful textiles will I'm sure, look at this product and think something along the lines of 'I could make that' - I know I did. And having experimented with the creation of my own, quickly adjustable rigging balancers in the past, I was interested to know whether this product would be something that would be worth investing in or if I would be better off just assembling my existing components when required.
As much as I enjoy the process mentioned above of combining components into new and exciting contraptions, I am now decidedly of the opinion that a ready set-up balancing system which lives in a dedicated rope bag is a worthy addition to my rigging collection. The addition of a storage bag would be my main input to Shizll as an improvement to this product. I made use of a lonely looking Stein 'Crane Bag' kindly donated by Treetools NZ (thanks, guys), and I feel this combination works very tidily.
Rigging ropes get tangled very quickly, and the addition of a bag means that my rigging process becomes streamlined rather than more complicated. Now my balancer lives in the crane bag which neatly attaches to the bottom hole of the spider plate. When doing a complex dismantle, the whole system can be hoisted up to me on the main rigging line at the beginning of the job, when not required it can sit ready in the tree out of the way (see below).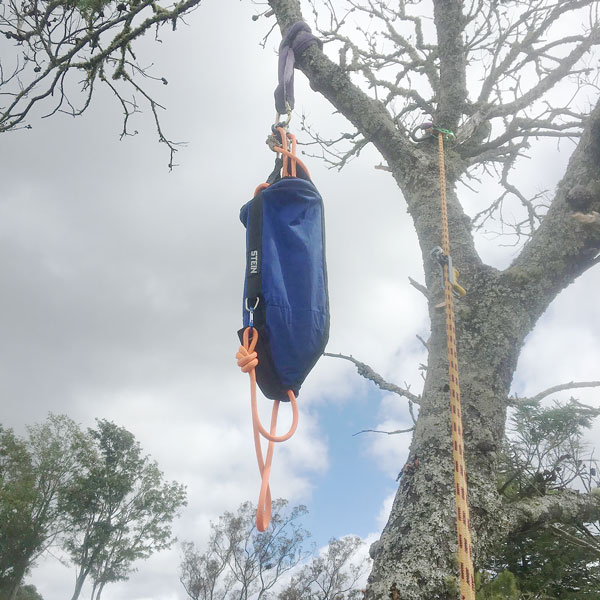 The conical shape of the crane bag & rigid opening at the top make things easy, but any small rope bag would suffice.
Below is an example of how we used the system to move limbs over a boundary fence with the assistance of the chipper winch - straight into the hopper! There were no complaints from the groundies on that job.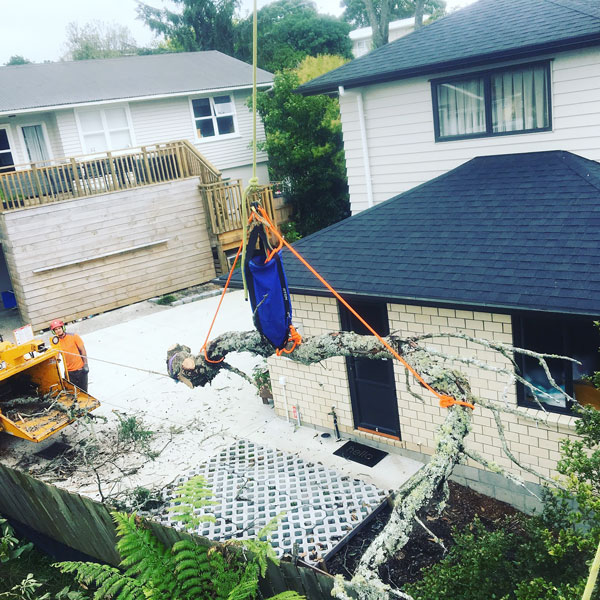 For the large version without eye splices (the model I tested), pricing (including taxes) comes in at $326.90 (NZD) from Treetools NZ, £172.80 from TreeKit in the UK and €228.69 direct from Shizll in the Netherlands. TreeStuff.com in the USA appear to stock the SpiderPlates but not the Easy Balancer that I tested. Readers can form their opinion about value, but my conservative estimate would be that this product saves my team around five-person hours per month (we almost exclusively do removals). These time savings are achieved by not having to assemble components before each climb, as well as the ability to dramatically increase the size of lateral sections of timber, for removal.
Misconfiguration concerns come mainly from installing with improper angles between each leg. Remember - any internal angle greater than 120 degrees between two load sharing points is pointless (and dangerous) because the forces will be vectored so greatly that the load on each leg is greater than if you only used one anchor point. An advisory graphic from the product manual is provided below.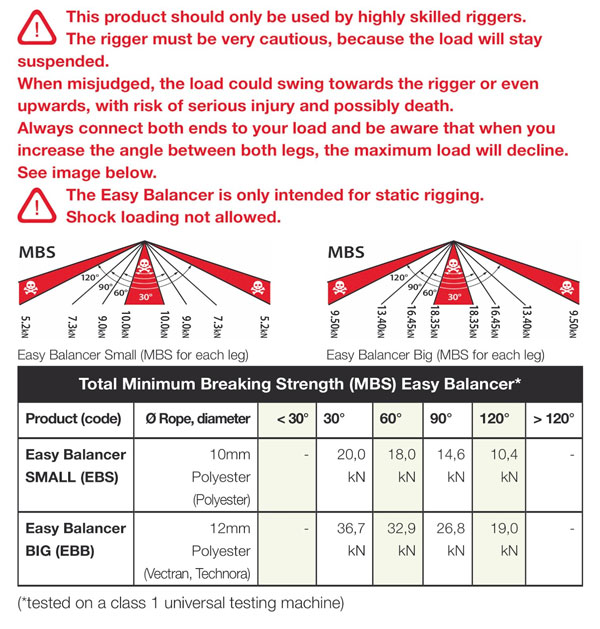 The Distel friction hitch that comes tied onto the legs as standard is justifiably tight - this is a rigging application after all and not some flamboyant climbing hitch. But the milled sides of the SpiderPlate facilitate smooth (albeit fairly high resistance) adjustment to the legs. From a component assembly perspective, the wide spacing of the friction hitch legs along the top of the steel attachment carabiner is less than ideal. There's a reason that Hitch Climber pulleys have narrow side cheeks and Pintos are just the right size to pinch two legs of 8mm hitch-cord together, and that is to ensure that the carabiner remains loaded along its major axis while avoiding force vectoring as much as is possible. However, the simplicity of using just one carabiner and the fact that heavy duty steel carabiners have been selected probably negates this issue. I wouldn't like to comment any further without some strength testing of my own, and I imagine that these are issues that have already been considered by the designers.
Personally, I don't think I would bother with the smaller version because the increased diameter (+2mm) of the rope in the larger version is barely noticeable regarding ergonomics, but you get a significant improvement in WLL. The spliced ends are a nice addition if you intend to use it with carabiners and slings - no knots to tie and untie (however as a splicer I would say that). But it does limit you to the diameter you can tie around in a way that a running bowline does not - not to mention increasing the cost and complexity of the set-up. Clipping the steel carabiner onto a short prusik loop attached to your main rigging line allows for the quickest and easiest three-legged balancing that I've ever done.
I include an image below of us using a Hiab to push the balancer maybe a little further than the designers intended… as a climber, I thought it worked sweet, but our operator 'still prefers his chains'.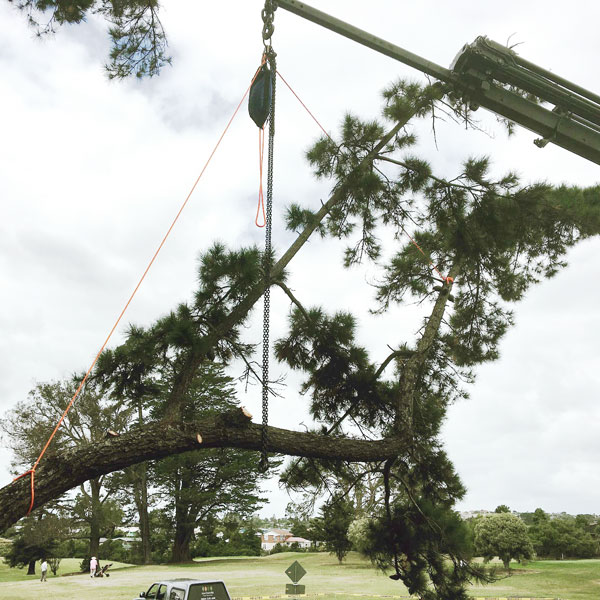 I continue to be impressed with how much functionality the guys at Shizll manage to get out a piece of metal with four holes in it, and it's been a pleasure to use such a well thought out product, I look forward to future innovations from these Dutchmen and all their cool Shizll.
Check out Shizll's website for more details, and for videos of the balancer in action in New Zealand just check out my Instagram profile.