On-form Clay Winter and a determined Nicky Ward-Allen scooped the top spots at the 2011 Wellington Regional TCC on Saturday.
Clay and Nicky have been training together and it shows: Clay has picked up some of Nicky's deliberation and finesse while Nicky seems to have gained Clay's perchance for aggression and speed - it should make for an interesting Nationals later in the month.
Employer and apprentice team Fraser Robinson and Peter Boyle also landed positions in the Masterton line-up, along with Tiago Miranda and Hamish Brown who narrowly nudged out Reuben Drew and Alvir Del Castillo.
Rookie climber, Peter Boyle finished with a very respectable 121.35 points and in fifth position overall, beating his boss Fraser Robinson by almost six points (it's hedges and dragging brush for Peter all next week!).
The Work Climb was the highlight event. Past visitors, familiar with the Wellington TCC, will know the oak used each year, but they would not recognize this years work climb set up by womans world footlock record holder and ITCC veteran Nicky Ward-Allen.
One could argue the climb was 'too hard' for a regional event but Nicky's Work Climb did allow for competitors to plan strategically - some missed the hard stations altogether but those who completed every station provided an excellent spectacle for the Wellington audience.
Out-of-towners, David Stejskal and Jawand Ngau Chun from Treescape Auckland led the points table overall with 143.33 and 137.62 points respectively.
Unofficial Wellington TCC qualifiers for the 2011 NZ Arbor/Husqvarna National TCC are as follows:
1) Clay Winter: 133.79 points
2) Nicky Ward-Allen: 129.22 points
3) Peter Boyle (rookie): 121.35 points
4) Fraser Robinson: 115.72 points
5) Tiago Miranda: 114.82 points
6) Hamish Brown 108.80 points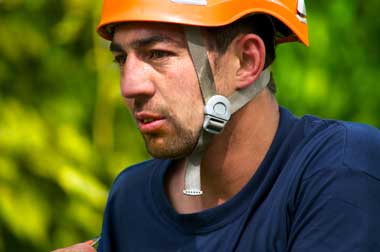 Check the NZ Arbor website for the official results. 2011 NZ Arbor/Husqvarna Wellington Regional TCC winner, Clay Winter taking a breather after his Aerial Rescue event.