International climbers Clay Winter and Nicky Ward-Allen led the points table, placing first and second, at the NZ Arbor/Husqvarana 2012 Wellington Regional TCC in Whanganui on Saturday. Auckland climber Shaun Hardman came in third.
This is the first Wellington Regional to be held outside the Capital for some time. Whanganui turned on the sunshine and crowds of locals flocked to Kowhai Park to see the Regional tree climbers in action. The traditional Wellington kids climbing arena had a queue ten deep for most of the day.
The Aerial Rescue event again presented a bit of a problem for some competitors. The scenario required footlocking or SRT Ascent to access 'Woody' - many rescuers only got a few meters off the ground. But those competitors with appropriate skills performed excellent rescues.
In contrast to the Waikato Throwline event a week earlier in Hamilton the Wellington version was a comparative doddle.
Nicky Ward-Allen set up the Work Climb which proved to a challenge for some. The branch walk looked difficult but once Clay Winter showed how it could be done most climbers followed Clay's lead. Shaun Hardman won the Work Climb with 60.20 points.
The fastest footlock of the day was Nick Ellis at 18.87 seconds followed by Nicky Ward-Allen at 20.00 seconds.
Unofficial placings and National qualifiers are as follows:
1) Clay Winter: 156.77 points
2) Nicky Ward-Allen: 154.96 points
3) Tiago Miranda: 149.55 points
4) Peter Boyle: 149.48 points
5) Nick Ellis: 139.91 points
6) Jamie Hartley: 138.38 points
Auckland climber Shaun Hardman placed third overall on the day with 153.21 points.
Check the NZ Arbor website for official results.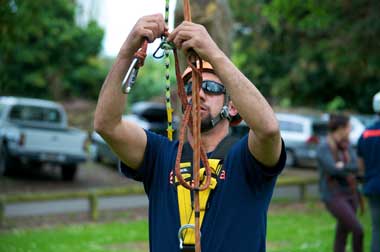 TCC winner Clay Winter preparing for his footlock (first up for the day) which produced 23.90 second result