Treetools sponsored ISAAC TCC kiwi wild card, Drew Bristow came in second in the prelims held on Saturday May 15, South Parklands, Adelaide. Apart from a small slip in the Speed Climb, Drew had an almost perfect day.
The Speed Climb was in the new form, introduced in the Hawaii event to accommodate smaller trees. The traditional Belayed Speed Climb is over 18 meters and in most cases is a single bell, straight up.
In contrast, the Adelaide Speed Climb had three stations in a relatively small conifer inclined off on a low angle. Climbers installed their own climbing rope (off a conveniently located pulley) and a tied in using a friction hitch or mechanical device. A technician belayed in the slack as the climber ascended. Traffic noise meant climbers had to yell loud when they were 'on' or 'off' belay in order to be heard.
Drew took a slight detour off the main stem but managed to recover quickly to complete the event with 18.18 points (out of a potential 20). Along with second overall in the prelims he racked up first in the Throwline, second in the Footlock (on Globe 5000 from Treetools) and second in the Work Climb. Well done, Drew!
Top six to qualify for the ISAAC TCC Masters (as a foreign wild card Drew could not compete in the Masters). These are unofficial results recorded by Treetools at the prize giving. See the
ISAAC
website for the official results.
Gerard Reynolds: 150.19
Drew Bristow: 147.89
Henk Morgans: 142.89
Joseph Harris: 140.68
Grant Cody: 132.14
Tom Greenwood: 129.09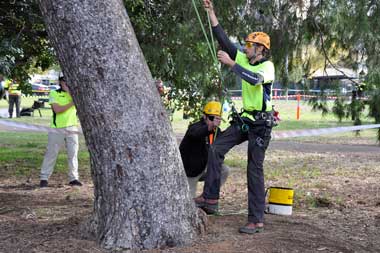 Drew Bristow preparing for the Speed Climb, belayed by the technician, fellow kiwi climber Hamish Fraser.