New-to-market tree climbing equipment is getting smaller and more light weight by the day. A worrying end-game for this 'light weight' trend is a general lack of robustness in the equipment.
Some of the new 'light weight' gear simply will not stand up to the rigors of tree work.
Hand ascenders, harnesses, chest ascenders, Figure 8 descenders, climbing and ascent lines, foot ascenders, helmets, carabiners, boots - you name it, lightness is the name of the game.
Yet, Treetools is uncertain where the market research is in the development of these new products?
Ask any aerial arborist and you'll get a unanimous vote for longevity over lightness any day of the week.
Sure, tree climbers like light weight gear, but the equipment must stand up to the demands of everyday tree work for it to be worthwhile of investment.
Perhaps the equipment designers are talking with recreational tree climbers and not working arborists - or even worse, favoring the comments of rock climbers instead?
Either way, it seems a little strange to be developing new tree climbing gear so light in weight that it will not last the distance.
The design mantra for the development of new tree climbing hardware (and software) should be light weight, and longevity!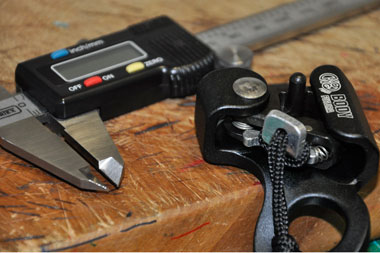 The Kong Futura 'Body' Chest Ascender is very small and lightweight… but it will still stand up to plenty of use! If the gear is designed right, you CAN have it both ways.