Following in the footsteps of WINTEC alumnus Scott Forrest and James Kilpatrick, 2011 student Noel Galloway has won a spot at the 2011 Husqvarna/NZ Arbor National Tree Climbing Championships scheduled for Masterton in October.
To qualify, Noel competed in the Waikato/Bay of Plenty Regional TCC at Parana Park in Hamilton East, winning the student division and placing 20th overall.
The regional tree climbing event attracted a record level of entries (33) and was won by current world record foot-lock champion and world-class climber James Kiltpatrick.
Waikato/Bay of Plenty representatives for the 2011 Husqvarna NZ Arbor National TCC are as follows:
James Kiltpatrick: 153.49 points
Elliot Fitzjohn: 109.47 points
Josh Ormsby: 91.71 points
Jacob Sewell: 89.97 points
Dan Benfell: 61.91
(Student) Noel Galloway
Note: these are unofficial results. You will need to check the event organizers >website, NZ Arbor for an official update.
Out-of-region Nicky Ward-Allen was the only women competitor.
The top five placings (including out-of-towners) were:
James Kilpatrick: 153.49 points
Jawand Ngau Chun: 127.57 points
Drew Brisow: 122.97 points
Shaun Hardman: 117.70 points
David Stejskal: 111.92 points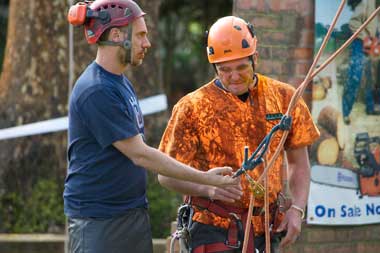 Student representative Noel Galloway taking some tips from Auckland contract climber Freddie Hjelms prior to his first ever competitive Work Climb.