WINTEC might be the educational institution to produce world class aerial arborists but Treescape is the treecare company who knows how to spot winners - Treescape Auckland had three climbers in the top five (Jawand Nga Chun, David Stejskal and Shaun Hardman) at the 2013 Auckland Regional TCC in Whangarei and Callum Hay made New Arborist of the Year as Auckland representative.
Kiwi Klimber Dale Thomas and contract climber Guy Clark also qualified for Queenstown.
You can download the full results for the 2013 NZ Arb Husqvarna Auckland Regional TCC by following this link to the NZ Arb website.
The Waikato/Bay of Plenty Regional TCC is scheduled for Hamilton this coming weekend (Saturday 14 September).
The venue is Hamilton Gardens off Cobham Drive - take the Gate2 entrance. Gear check 7:30 am, 8:30 am start, rain or shine!
Make sure you are registered beforehand - apparently no entries will be taken on the day.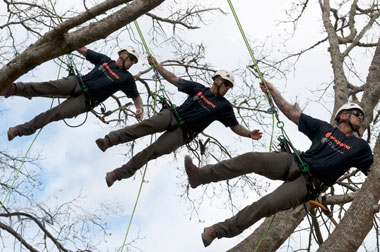 Treescape climber Jawand Ngu Chun in full flight, Mander Park, Whangarei, Saturday 7 September 2013. More photographs on Flickr