Travel around New Zealand and you'll appreciate the depth of talent we have in this country for tree climbing.
Almost every tree climbing event produces one or two young climbers who stand out from the crowd, someone to be watched.
One such climber is Fielding rookie Peter Boyle.
Typical of talented tree climbers, Peter is very understated and is probably cringing at the spotlight this blog post will bring… but he deserves to be noted for his skill, passion and enthusiasm.
The Wellington Regional TCC back in November was Peter's first competitive outing. He placed third in the local lineup, pipping his employer and TCC veteran Fraser Robinson by almost six points.
First year qualification for the NZ Arbor/Husqvarna Nationals is no mean feat by anyone's standard!
Peter finished a respectable 14th overall in the preliminary events at 2011 NZ Arbor/Husqvarna Nationals in Masterton.
Treetools asked Peter where he got his motivation from and he cited encouragement from his boss Fraser Robinson and support from his dad, Wayne Boyle but its the climbing style of Ross Kite who really got him interested in competitive tree climbing.
Peter plans to attend as many of the 2012 tree climbing events and competitions as he can so that he can learn even more from the 'masters' - keep your eye on this guy!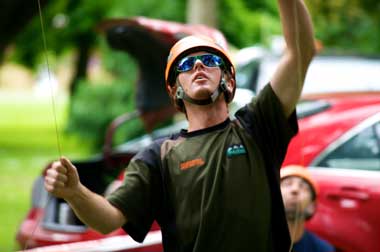 Peter Boyle manipulating his throwline at the River City Open Masters, Whanganui. Peter works for Robinson Tree Services and is studying under NZHITO.