Earlier in the month the South Island Regional TCC attracted 32 climbers but the Waikato topped their Southern neighbors with over 40 tree climbers competing in the 2012 NZ Arbor Husqvarna Waikato Bay of Plenty Regional TCC on Saturday at Ferrybank Park in Hamilton.
The Work Climb and Aerial Rescue events attracted plenty of attention from onlookers who turned up by the dozen. The river bank location, weather and radio advertising probably had a lot to do with the tremendous public support.
The overall quality of tree climbing was excellent - it's great to see so many up-and-coming young climbers competing.
The quality of Aerial Rescues caused a stir in Christchurch but yesterday's AR judges Tony Wilson and Rossy Ross described the days rescues as 'solid'. Understanding the rules better would have improved results according to Tony.
The Work Climb by Will Dunn, which just happened to be the last of the day (so he had plenty of onlookers), was a real treat to watch.
Will placed fourth overall, just behind TCC veterans Drew Bristow and Nicky Ward-Allen, with 124.16 points. He is definitely a climber to watch out for in the future.
New faces on the qualifiers list (for the Nationals) include Jonathon Royle and WINTEC student Rob McCallister. Long time competitor Steve Griffiths also put an excellent performance resulting in fourth place in the local lineup.
Unofficial results are as follows:
Josh Ormsby 131.87 points
Elliot Fitzjohn 107.62 points
Hamish Fraser 97.39 points
Stephen Griffiths 96.38 points
Jonathan Royle 95.66 points
Rob McAllister 70.15 points
Andy Harrison and the Waikato boys really put on a great event - all day coffee and the WEL Networks beers and barbie to finish the day. Husqvarna and Silky provided loads of prizes just to add to the atmosphere - tree climbing at its best.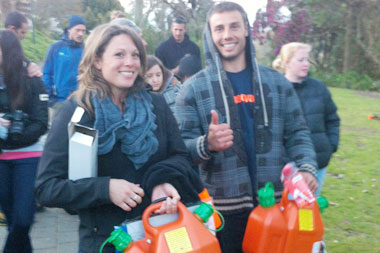 2012 Waikato BoP Regional winner Josh Ormsby and sister with his haul of prizes - more photographs to follow.