Here's the word from Wild Country:
For the safety of all of our customers we are issuing an immediate recall of the Wild Country Ropeman 3. If you own a Wild Country Ropeman 3 please read this notice carefully and follow the instructions: "How to Return the Product".
Reason for the recall:
The Ropeman III ascending device meets the requirements of EN567 (Mountaineering Equipment. Rope Clamps), however it has come to our attention that in certain circumstances, rather than locking on the rope as expected, the Ropeman III may slip when initially loaded.
This slippage is more likely to occur when the rope is under significant tension and the cam of the Ropeman III has not been specifically set in position on the rope by the user.
Once the cam has been properly located on the rope and the Ropeman 3 loaded without slippage the device will perform as expected.
Nevertheless we recognize that there may well be scenarios particularly in difficult conditions such as poor weather, extreme fatigue or during the course of an accident where the Ropeman 3 may not in our opinion be fully relied upon to meet the reasonable expectations of the user.
Our first priority is the safety of our climbing and mountaineering colleagues and customers, therefore we have taken the decision to recall the Ropeman 3 with immediate effect.
We apologise for any inconvenience this may cause.
How to identify the product:
The Ropeman 3 is clearly marked with its name, comes in red and blue and can also be identified by it's ridged aluminum cam (a replacement version with a spiked stainless cam will be available).
Follow this link to go through the recall process.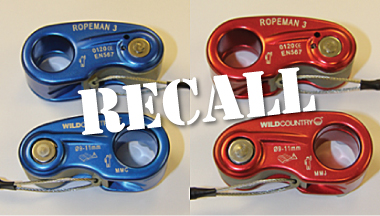 Treetools has never stocked the Wild Country Ropeman III - the Ropeman I and II are not affected by this recall.