Nicky Ward-Allen and James Kilpatrick took top positions in the Masters event at the NZ Arbor/Husqvarna National TCC in Masterton this afternoon. Nicky and James will join fellow kiwis Chrissy Spence and Scott Forrest at the ITCC in Portland, Oregon, USA in July 2012.
2011 NZ Arbor/Husqvarna Mens Masters
1) James Kilpatrick: 270 points
2) Ross Kite: 258 points
3) Jawand Ngau Chun: 240 points
4) Drew Bristow: 140 points
2011 NZ Arbor/Husqvarana Womens Masters
1) Nicky Ward-Allen: 82 points
2) Elena O'Neill: 55.33 points
Full official results should be available on the NZ Arbor website sometime soon.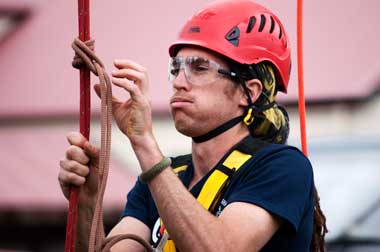 2011 Mens NZ Arbor/Huasqvarna NZ TCC winner, James Kilpatrick, preparing for the footlock event in Queen Elizabeth Park, Masterton, Sunday 23 October, 2011.