Six tree climbers from the South Island are heading for the National TCC in Wellington, late October.
Thirty two climbers turned up this morning for the 2012 NZ Arbor/Husqvarna South Island Regional TCC held in Abberly Park, Christchurch, many of them new to the competition.
Considering the high level of newcomers competing in the event the overall quality of climbing was pretty good… except for the Aerial Rescue which attracted special attention at the prize giving.
Event judges Mat Palmer and Tim Lovejoy were not impressed with the demonstration of rescue skills and told everybody so at the conclusion of the day. Woeful to average according to Tim!
Mens qualifiers are as follows:
1) Michael Winstanley
2) Dominic Ritter
3) Chris Latimer
4) Adam Robson
5) Scott McHaffie
South Island TCC womens division winner and nationals qualifier: Stef White.
Please remember, these results are 'unofficial' - you should visit the NZ Arbor website for the real deal.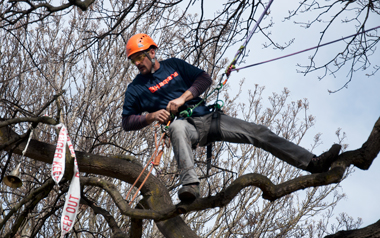 Sixth placegetter Alva del Castillo attempting the near impossible 'Limb Walk' at Abberly Park. More photographs will be posted on Flickr during the week.