First up, this post is not casting aspersions on all the NZ Arb volunteers who help make the Regional and National TCC happen each year – we know the job takes plenty of hard work and commitment … and, by-and-large, it's a pretty thankless task.
That said, once you do put your hand up for a role in a volunteer organization, you are presumably cognizant of the fact you are going to have to do, well… something.
Blog readers, not on FaceBook, may be unaware of the fact that competitors in the 2013 Regional TCC were still waiting for their spot prizes as of January 2014 (the prizes were awarded back in September 2013).
Apparently, following the FB campaign earlier in the week, the aforesaid spot prizes are on their way to their respective recipients.
TCC sponsors get egg-on-face
As is typical of recreational sports events around the country, NZ Arb organize 'sponsors' to provide freebies as giveaway spot prizes at the tree climbing competitions.
The goodies, awarded to competitors at the end of the day, guarantee the target market will hear the name of the sponsoring body – and get all warm and fuzzy about them and their product.
It is highly unlikely the TCC sponsors failed to provide the spot prizes they wanted to award at the comps – surely that would be counterproductive.
Imagine telling the target market (that is, your potential customers) you are going to give them a prize and then not delivering!
Obviously the customer is going to be pissed off (as we have seen on FaceBook) regardless the value of the prize – the promise has been made.
Companies know the value of trust between them and their customers and they often spend large sums of money to ensure that relationship is not compromised in any way, shape or form.
NZ Arb has breached that trust, both with the sponsors and competitors, by not delivering on the spot prize promise. Too little, too late does not count.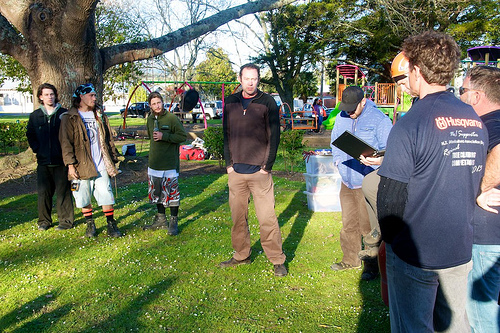 Poor old Craig Webb, long-time Auckland TCC volunteer, explaining away the absence of spot prizes at the Husqvarna Auckland Regional Comp in Whangarei, early September 2013 (Auckland Regional TCC prizes yet to be delivered, January 2014).