The body of evidence against the use of a toothed-cam hand ascender, single or double, configured as the primary anchor point in a climbing system is well recorded.
The aggressive teeth on the cam of these devices begin to strip the sheath of the rope when loads reach about 5-6 kN.
Considering the average climber produces approximately 2 kN of peak force merely ascending the line, the 6 kN figure is not inconceivable in a tree climbing scenario.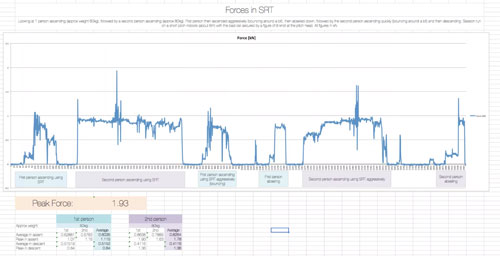 Treetools cannot find any research endorsing the use of a hand ascender as the primary anchor point in a climbing system.
Yes, we know some manufacturers show a 'backed-up' option in their user instructions and Tech Notices, but research suggests, in most cases, the back-up does not work consistently in real-world applications.
Kong Italy even sports an EN Certification for the use of their 'Trender' double hand ascender as an anchor point (EN 795 B along with EN 567 and the usual EN 12841 B). Instructions are sadly lacking.
As an aside, EN 12841, the testing methodology applied to rope adjustment device Standard (in this case hand ascenders), has a long history of debate in rope access circles, and is considered by many as a 'fundamentally-flawed standard'.
Regardless of apparent manufacturer endorsement of the practice, climbers worldwide, even the most gung-ho, Red Bull types, shunned employing a toothed-cam device as a primary life support connection to a rope.
And this was a good thing.
Unfortunately, the ITCC blew years of research and the 'wisdom of crowds' out the window in 2017 when they allowed the use of a toothed-cam double-hand ascender, configured as a primary anchor point, in the new ITCC Ascent Event.
And this is a bad thing.
The ITCC sets a 'default' standard for tree climbing whether they like it or not. If a practice is 'good to go' at the ITCC, then that practice is almost universally accepted by the industry as officially 'endorsed' and even considered by some as 'best practice'.
The new Ascent Event has had two outings at New Zealand Regional TCC's this year, and in both competitions, the use of a double hand ascender, as a primary anchor connection to the life support line, has featured. As it happens, none of the systems employed in this configuration reached the manufacturer's specification.
Allowance of the double hand ascender as a primary anchor in an NZ TCC is not a reflection on the judgement of the head tech or the TCC organisers. The responsibility rests solely with the ITCC for allowing this configuration in the first place.
The concern now is this; climbers unaware of the subtleties of the application in a competitive environment might take to using this configuration at work, and the result has disaster written all over it.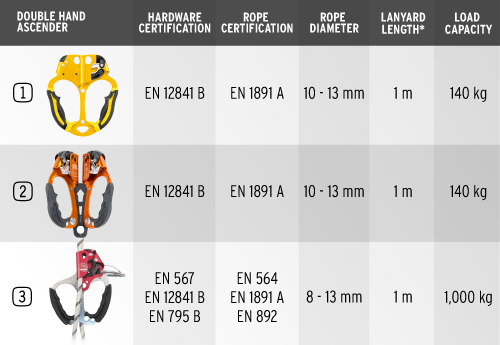 Commonly used double hand ascenders in the New Zealand tree climbing scene:
1) Petzl Ascentree, 2) Climbing Technology Quick Arbor, 3) Kong Trender

*Denotes maximum lanyard length including connectors and Cows Tail

EN 567 - Rope Clamp; EN 12841 B - Rope Adjustment Device; EN 795 B - Anchor Device

EN 564 - Accessory Cord; EN 1891 A - Low Stretch Kernmantle Ropes; EN 892 - Dynamic Mountaineering Ropes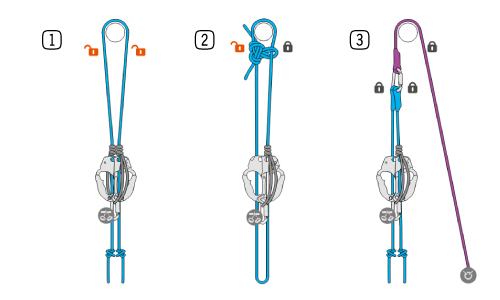 Illustration No.3 is the standard base-anchored configuration for the ITCC Ascent Event