A thrifty customer rang yesterday to tell Treetools it was cheaper to buy a Petzl GriGri and a length of rope over purchasing the Petzl Grillon adjustable work positioning lanyard system.
That would be true if he were comparing apples with apples.
Search the web for information on the Petzl GriGri versus the Grillon (for use as a work positioning lanyard adjuster) and you'll come up with a lot of nonsense - it's little wonder climbers get confused!
Much of the mythology surrounding the Petzl GriGri/Grillon debate is probably due to the fact these two devices look almost identical… apart from the color.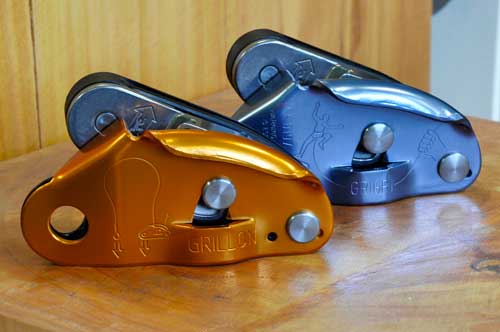 On closer inspection climbers will note the difference in the engraved naming and operational graphics… and to the more astute viewers, the screwed-shut side plates on the Petzl Grillon.
What most people miss is the cam operation on the inside.
The Petzl Grillon is not a faulty GriGri
The Petzl GriGri cam is spring-loaded, while the Grillon cam hangs loose. (We have had customers tell us they have a faulty Petzl GriGri because the spring no longer works - turns out the device is a Grillon).
The sprung versus un-sprung cam on these two devices is a vitally important difference.
The Petzl Grillon is designed and rated as an adjustable work positioning lanyard.
The Petzl Grillon is an integrated system, in that the rope and mechanical device are designed to work in harmony together (you cannot purchase the Petzl Grillon hardware separately without the rope and replacement rope must always be Petzl Grillon branded).
The swinging cam on the Petzl Grillon is actioned under very low, passive load making this device ideal as a work positioning lanyard adjuster.
The same cannot be said for the Petzl GriGri in this application.
The sprung cam on the Petzl GriGri requires a far greater load to get it to bite into the rope. Without this 'dynamic event' the GriGri tends to slip, very easily under passive load, making it unsuitable as a work positioning lanyard adjuster.
No matter how much money you can save, using the Petzl GriGri as a lanyard adjuster in not a very bright idea - it simply does not work (effectively).