Numerous international tree climbers have graced the doors of Treetools over the last few weeks. Most of them have spent at least a couple of hours in the shop (which is very easy to do). While at Treetools they have had the opportunity to catch up with working arborists who happen by.
These international visitors cannot believe the exposure us kiwis have to tree climbing and the ongoing debate regarding new techniques and tree climbing theory. Not to mention our development of young up-and-coming tree climbers.
What astounds these guys the most is the number of working arborists who freely give their time to share this knowledge - a true collaboration of ideas, which continues to evolve.
Another feature of the NZ tree climbing landscape which we almost take for granted is the number of regional TCC, arborcamps and Open Masters Challenge we have throughout the year.
The value kiwi tree climbers get out of these events cannot be overstated.
It's a pity more arb companies do not field a team of climbers; most competitors in the regional TCC and Open Masters Challenge and attendees at arborcamps are individuals.
A lot of learning and sharing of ideas takes place at these events. And it is this constant stream of innovation that enhances New Zealand's unique position in the world of tree climbing.
According to our overseas visitors the benefits accrued to arb companies would far outweigh the cost and time involved.
It's quite refreshing to hear such positive comments coming from people who have traveled thousands of kilometers just to say they have spent time with real kiwi tree climbers (and some time at Treetools).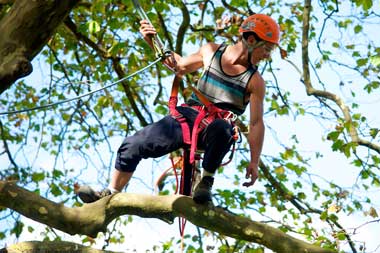 Ethan Martin from Tricky Tree Specialists in New Plymouth tackling his first ever Open Masters Challenge in style at Milverton Park in New Plymouth on Monday - more photographs to follow.