One of the advantages of photographing the various Regional TCC around the country is the opportunity it provides to catch up with Treetools customers.
Last weekend I managed to spend a few minutes with up-and-coming tree climber Ethan Martin who works for Brendon Bellamy's Tricky Tree Specialists in New Plymouth.
Ethan had recently invested in a TreeMOTION harness so I inquired how it was going? As expected, Ethan talked positively about the harness but he did say the leg loops were too tight which led to the next question - how tight should the leg loops be?
On inspection, Ethans leg loops were indeed cinched up tight, almost cutting the circulation to his legs. I suggested backing the straps off a little - in most cases the leg loop adjustment is somewhat intuitive, you just know what feels right.
As it happens, before Ethan had a chance to release the leg loops on his TreeMOTION another climber pipped up and suggested he should keep them up real tight (just in case one of his balls slipped between the leg loop and his leg and got crushed in the process).
Obviously the thought of one crushed testicle had the desired effect on this young man - Ethan's leg loops were cinched up tight immediately! (I pragmatically suggested wearing tighter underpants but that pearl of wisdom fell on deaf ears).
There are recorded incidents of testicle strangulation due to poorly adjusted harnesses but one would have to question how common the problem actually is.
How tight is too tight
Anyway, back to the original question, how tight should the TreeMOTION leg loops be?
Treetools decided to ask the question of three well known TreeMOTION fans: Drew Bristow, Rossy Ross and Freddie Hjelm, all of whom visited the shop during the week.
The general consensus was this - you just know how loose, or tight, the leg loops should be! Drew and Freddie prefer 'skater-style' looseness but Rossy, with German precision, had a formula to follow.
Rossy's TreeMOTION leg loops where loose enough so that be could step out of the harness without undoing the quick-release buckles but too tight to put the harness back on.
Another common formula for leg loop adjustment involves pinching the leg loop between your thumb and forefinger.
If you can fold it between the two fingers, it's too loose. If you can't get any traction at all, it's too tight.
Others have suggested the placing of three fingers between the leg loop and your thigh to find the optimum tightness.
The TreeMOTION handbook included with a new Teufelberger harness simply says: the harness should be properly fitted, comfortable and suitable for the task.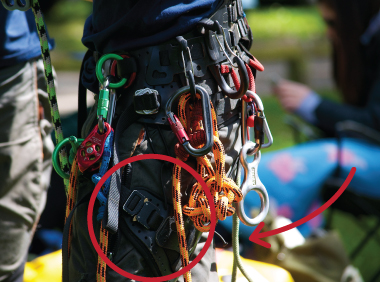 Most TreeMOTION owners seem to prefer skater-style looseness to the fit of their harness - this is somewhat unique to the TreeMOTION. eg Petzl Sequoia owners mostly prefer to have their harnesses cinched up tight.