Stretch-AIR arborist chainsaw trousers by Pfanner have long been considered the best chainsaw protection garments on the market. The picture below is of a 3-year pair of Stretch-AIR arborist trousers worn almost everyday by Rossy Ross of Pro Climb.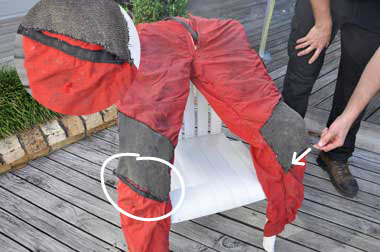 Apart from the failure of the stitching on the Kevlar knee pads the trousers are still serviceable. These extra light, breathable chainsaw trousers werespecifically designed for arborists (we're pretty sure Thilo Beeker was involved in the initial design process).
The latest design improvements include pre-formed, waterproof Kevlar-Keprotec knee pads that fit tight against the leg and offer the best possible freedom-of-movement.Pfanner Stretch-AIR chainsaw trousers also offer 6-layers of protection: Class 1 CE EN 381-5 Type A, B or C.
Other features include: bi-elastic, tear and oil resistant, extra light weight Nano fabric with big side pockets (and phone-pocket) and an extendedback with buttons for braces. The inside lining is made from a special moisture-managing Cocona
mesh fabric.
You can download the Pfanner brochure to see the complete range of gear on offer. Treetools are expecting a Pfanner shipment late February which includesa range of tree climbing trousers along with chainsaw protected clothing and boots. Prices to be confirmed.