Your average, everyday hard working arborist is very thankful the Stein brand exists. Real value for money is a sort after commodity and that is what Stein is all about.
Take the new Stein X2 Climbers for example (as blogged about previously).
Made in the US, these aluminium climbers are 'modular' in design so that changes can be made in the future without extensive redevelopment costs.
The X2 Climbers are available with American short (43mm) or American long (67mm) pole gaffs and come complete with a robust carry bag. All other climbers on the market leave storage up to the owner.
The Velcro strapped, C-style top pads are backed with aluminium (instead of steel) to reduce weight but this also helps to keep their form. The buckle-style neoprene bottom straps can be cinched up tightly and are replaceable.
Branch slippage when moving around the tree (wearing climbers) during a take-down is fairly common so Stein have pre-formed 'safety grips' into the base plate to help reduce the problem.
Another welcome innovation from the Stein stable is the new Push-To-Talk (PTT) radio comms unit.
Arborist radio communication systems are mostly proprietary by nature, which makes them expensive, but Stein have taken a different approach.
The SteinPTT ear piece and microphone boom are built into a pair of standard, clip-on MSA Sordin ear muffs (common on most arborist helmets) and can be connected to the RT of your choice via a standard 2-pin radio connector.
Radio communication allows tree workers to stay in touch without the need for shouting. Good communication makes for a far safer work site (and it also looks very professional). All you need do is tune each radio to the correct channel and away you go.
Both these new products will be available from Treetools soon - and, typical of Stein, you can expect real value for money.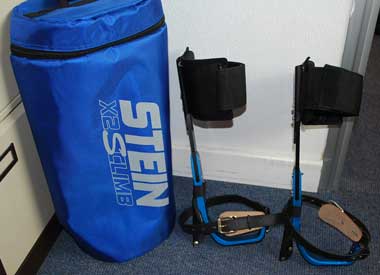 Stein X2 Climbers - a sneak preview!