Petzl certainly put the cat amongst the pigeons when they suggested the Grigri was not appropriate for treework.
Petzl Grigri owners spoken to by Treetools said they would continue to use their Grigri's regardless of Petzl's warning. As far as they are concerned the Grigri is well tested in treework with no recorded problems to date.
The decision to ignore Petzl's warning might be considered OK for your average aerial arborist but tree climbing competition organizers are not so keen to blatantly disregard the company's directive.
This means the Petzl Grigri, commonly used at New Zealand tree climbing competitions for the controlled lowering of climbers after the Speed Climb and Footlock events, would need to be replaced with a more suitable device.
One alternative to the Grigri is the Auto Break Descender made by ISC. The AB Descender works in a similar fashion to the Grigri but has the added advantage of a 'panic' feature which halts the climbers progress if the device is used incorrectly.
Treetools loaned a couple of Stein AB Descenders to NZ Arbor for testing as suitable lowering devices at the South Island Regional TCC on Saturday in Christchurch. The AB Descender proved to be very easy to install and required minimal direction for the new user to master.
Initially there were doubts about the feeding-out speed of the rope (to keep pace with the climbers ascending) but that was not an issue when the AB Descender was put to the test.
All-in-all a very successful trial.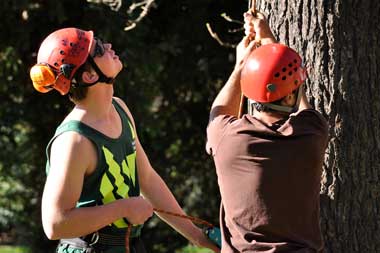 Climbers operating the Stein AB Descender at the South Island Regional TCC on Saturday in Christchurch.