Thanks to Silky Japan and a lot of leg work by Silex (Silky NZ), a number of qualifying competitors in the 2012 NZ National TCC, scheduled for the weekend of 27-28 October in Wellington, will be sporting unique 'toothless' Silky Tsurugi 300 competition saws - specially air freighted to Treetools for the occasion.
Only 20 units, engraved with 'Treetools 2012' for memorabilia sake, were made available to Treetools customers who qualified for the NZ TCC and they soon found a home after we announced their arrival on our Facebook page earlier in the week.
Beautifully balanced in typical Silky fashion, these competition Tsurugi's come complete with the new aluminum sheath. The formed two-part handle is shaped to 'clip' into the sheath and stop the saw dropping out accidentally (no more DQ's for dropping the handsaw).
The allocated competition Silky Tsurugi saws can be collected from Treetools stand at the NZ Arbor Trade Display or at gear check on Friday evening. (Only available to those climbers who emailed in a request).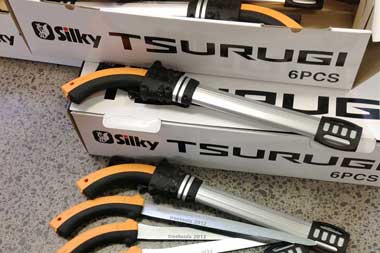 The new Silky Tsurugi MT 300 is one of Treetools biggest selling Silky saws.