Effervescent Englishman Gareth Wood, famous for the Tree Botanics section on his website ArborTechniX, found out first hand the brutal nature of sub-tropical plants while dead-fronting and reducing a Phoenix Palm on Tuesday.
Gareth says "I dislodged a section on the intermediate canopy which then bounced down and through the fronds, changing direction to fall directly into my forearm and into the muscle belly.
I managed to cut two spikes free with my rescue knife, but the remaining two were embedded below the skin surface and in the muscle/tendon structure of my ARM!
he only solution was to have surgery to open the tissue and remove the spikes.
Phoenix Palm causes a particularly nasty adverse reaction in terms of antibodies and poisons to the body on contact, so it's extremely important to treat with antibiotics and remove the foreign body as soon as possible."
This is an extreme form of botanical research but all of us have stories to tell about palms. Gareth will dine out on this one for years!
The work on the offending palm was finally completed by Drew Bristow (without incident - at least that's his story!).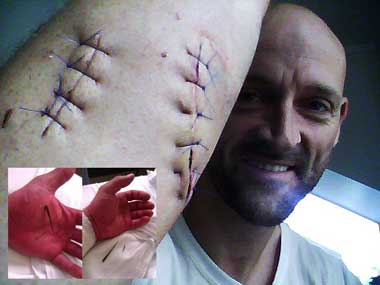 ArborTechniX Gareth Wood still smiling!