Treemagineer Bernd Strasser has won the 2012 ITCC bringing his ITCC title bag to nine all told (as listed by Ling Wah Ling on FaceBook: 2012, 2008, 2007, 2006, 2004, 2003, 2002, 2000, 1999) - a truly amazing effort!
Women's ITCC title went to first-timer Veronica Ericsson of Sweden. Veronica is a familiar face around New Zealand tree climbing comps having resided here during 2010-11.
Kiwi climbing Legend Nicky Ward-Allen placed second in the Women's Masters event. None of the three male kiwis made it through to the Masters although New Zealand won the Chapter Title on points.
A running commentary of the all events, written by Legends Trustee Neal Harding, can be found on the Scott Forrest Legends Foundation website.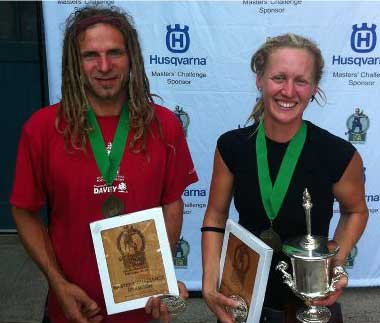 Beddes Strasser with Veronica Ericsson. Photograph supplied by Scott Forrest
.