The following is a Husqvarna National's update from Neal Harding:
Mat Palmer, NZArbor's Tree Climbing Championship Co-ordinator, has asked me (Neal Harding) to co-ordinate the volunteers for the upcoming New Zealand Tree Climbing Championship.

The Championship is scheduled for Labour Weekend: with set-up on the Friday, and competition on Saturday and Sunday, with a fun climb on Labour day.

I have attached some information setting out the event and the venue in more detail. It is a 'bring the family' type of venue.
If you're keen to help out (and I've already heard from a few of you and thank you for your willingness) then please send me an e-mail with an indication of what you'd like to do.
We need the usual combination of Judges, Technicians, Timers, Gorillas, Tree Musicians and so forth; but would also welcome anyone wanting to lend a hand.
If you have any questions then please drop me an e-mail.
See the NZ Arbor website for more details.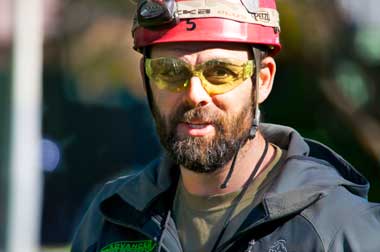 NZ National TCC co-ordinator Mat Palmer in action at the 2011 South Island Regional TCC, Burnside Park, Christchurch.