Homeowners undertaking tree work on their property have unwittingly helped in the development of a new 'mini-bollard'.
It appears tree work customers are putting pressure on providers to 'act like real arborists'.
Loosely translated, this means customers have high expectations from the arborists they employ to complete tree work on their property. One common issue customers have is the lowering of cut branches.
They are not happy when they see large sections of timber biffed carelessly into their garden.
The Stein and Pro Climb fixed bollards are far too big for most domestic applications and for a lot of arborists the Port-A-Wrap is a little too 'fussy' to install, especially on smaller jobs.
Rossy Ross from rigging specialists Pro Climb was quick to note this market trend and immediately set about to develop a lowering bollard to cater specifically to this market.
The objective was to build a fixed bollard that was small, lightweight, quick and easy to install but inexpensive to buy.
After a series of prototypes the ideal mini-bollard has been produced.
It is attached to the tree using a ratcheting truck tie-down strap which allows for quick and easy to installation. And… it looks the part… and it does the job - with ease.
Rossy being Rossy, he wanted to make sure his creation could withstand significant forces - just in case somebody used the bollard for more than 'lightweight' applications.
The bollard prototypes passed all the 'physics' tests for strength but the use of a single truck tie-down to secure the bollard to the tree was the big question mark.
It turned out, the best way to strength-test the strap was real world use of the gear.
So… over the weekend, the new yet-to-be-named Pro Climb rigging mini-bollard was put through its paces.
A 500kg 4m section of timber was loaded into a standing 25m pine spar using the GCRS.
A large DMM Impact Block secured the load at the top and the system ran 19mm Samson Tenex to secure the load.
In this deliberate configuration the weakest point was the single truck tie-down.
The final test results will be shown in a separate Pro Climb video.
Hint: this new mini-bollard is likely to be a big seller.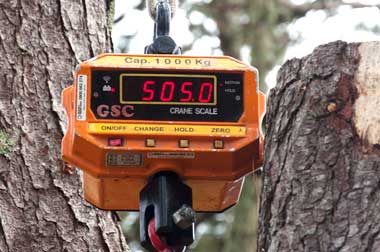 Crane scale indicator as used to measure the precise weight of the timber used for the drop-test on the the new Pro Climb mini-bollard.