The Scott Forrest Legends Foundation will have its very own website thanks to sponsorship from Treetools and web development work by Auckland aerial arborist David Kite.
The Legends Foundation was established by the current ITCC World Champion, Scott Forrest, with the primary aim of generating funds to assist kiwi tree climbers with the expenses incurred in competing internationally.
Early in April 2012, Scott approached Treetools New Zealand with a new fund raising concept which saw a 'royalty' paid on the sale of products currently associated with the world champion.
As a result of those discussions the Legends Foundation now receives a 10% royalty on all Cougar Blue climbing line and Armor-Prus Polyester friction cord sold through Treetools.
Since May this year Treetools has raised over $2000, some of which is due for distribution to the kiwi 2012 Asia-Pacific TCC competitors.
The new Legends website has all the functionality you would expect. This includes an About Us section, a 'Legends' and 'Sponsors' section as well as a Legends Foundation Blog to keep everyone updated. A Legends photo gallery is also planned.
The first "legends' listed are likely to be the kiwi climbers who have won the ITCC or broken a tree climbing world record: Scott Forrest, James Kilpatrick, Nicky Ward-Allen, Chrissy Spence and Elena O'Neill.
A novel feature of the website is the use of 'Testimonials' written by competitive tree climbers who have benefited through funding from the Legends Foundation.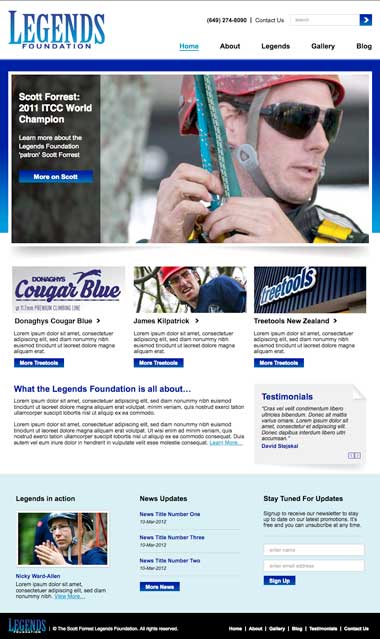 Thanks to David Kite from Pixel Science for all the hard 'coding' work.