The Scott Forrest Legends Foundation has made its first major contribution to New Zealand tree climbing by paying out to the kiwi Asia-Pacific TCC climbers who competed recently in Hobart.
James Kilpatrick, Zane Wedding, Jawand Nga Chun, David Stejskal, Clay Winter and the Legends Foundation patron Scott Forrest all received $150 each towards expenses for their trip to Hobart in April.
The Legends Foundation was established by the world champ Scott Forrest to help raise money in support of kiwi tree climbers who qualify for international events. The 'Foundation' is administered by Etham lawyer, Neal Harding.
Contrary to popular belief qualifying climbers are often expected to pay their own way to these international tree climbing competitions.
The cornerstone sponsor for the Legends Foundation is Treetools but money comes from various sources.
10% of all Donaghys Cougar Blue and Armor-Prus Polyester 8mm sales sold through Treetools goes directly to the Foundation. Scott was instrumental in the development of both these Donaghys products.
WEL Networks have made a contribution to the Legends Foundation as a way of saying 'thank you' to Scott for his training support with the WEL Networks tree climbing team.
Individual tree climbers can also contribute to the fund. New Zealand's first ISA Master Arborist Peter Waymouth from Dunedin was keen to get involved from day one.
"I just love what Scott is doing for the New Zealand tree climbing scene" says Peter, who recently transferred a credit he had with Treetools direct to the fund.
Another kiwi tree climber right behind Scott's Legends Foundation is Joe Cooper of NTCA and Rakau fame.
Joe's Rakau website has The Scott Forrest Legends Foundation tee shirts on sale with all proceeds going into the fund. You can also purchase Agathis tee shirts on Rakau with proceeds going to the NTCA trauma fund.
The Scott Forrest Legends Foundation website is under construction thanks to support from Treetools. The new site celebrates our current and past kiwi tree climbing 'legends' and provides a medium to help promote sponsors and individual supporters.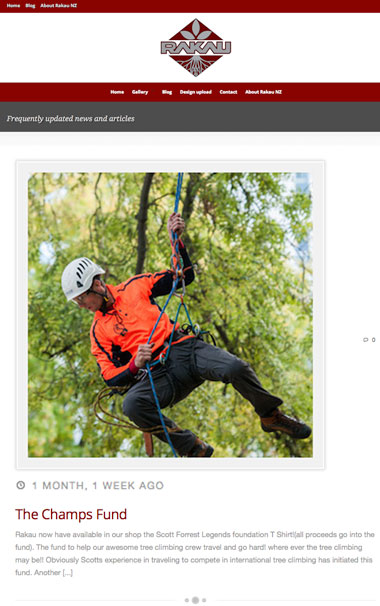 The photograph below of Scott was shot by Rob Fisher from Fisher Photo Industry who is internationally famous for his tree climbing photography (see the front cover of the latest Arb Climber magazine).