Kiwi arb companies are showing interest in the concept of independent third party gear 'inspection' (of tree climbing and rigging equipment) not unlike the LOLER concept adopted in the UK.
The interesting thing is, from a New Zealand perspective, the idea appears to be self-imposed.
That is, independent third party gear inspection is not a directive from insurance companies, the Department of Labour or some other quasi government organization concerned about our well-being.
The concept has its root from within the industry itself.
Following the mass adoption of the serial numbering of climbing hardware and ropes, arb companies appreciate the importance of managing their PPE and rigging equipment correctly.
Combined this with the growing safety awareness in regard to climbing and rigging lines, lanyards and other PPE and, thanks to our training organizations, a more thorough understanding of cycles-to-failure etc its not such a stretch (in the imagination) to see independent third-party gear inspection taking off here.
Fee-based third party gear checking
Some height safety companies already provide fee based PPE and rigging inspection services in this country.
However, these same companies often do not have any understanding whatsoever of the idiosyncrasies common to tree climbing equipment.Consequently, traditional height safety gear inspection services have not yet successfully cross-pollinated to tree work.
In terms of third-party gear inspection, harnesses might be the only exception to the rule.
Safety equipment manufacturer Aspiring Enterprises in Christchurch provides a 'de-facto' inspection service when they are asked to repair 'damaged' tree climbing harnesses.Typically, the gear in question is sent to Lindsay; if he says it can't be repaired, the harness is considered buggered. If he fixes it, than all is good.
Of course, Lindsay may not be aware of the role he is playing here as third-party gear inspector but that's about the reality of the situation.
Currently, all other gear checks are conducted within the company. These gear checks may be undertaken by the climber or the company owner or a manager.
There are no 'standards' to comply with as such (that Treetools is aware of).
If the company representative or individual climber says the PPE or rigging equipment is good-to-go then, it is literally, good good-to-go.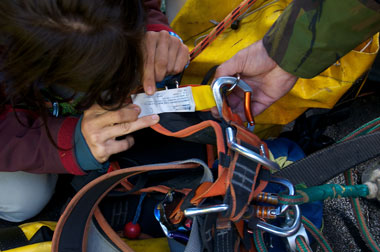 A tree climbing competition gear check might be the only other time your climbing equipment is checked by an independent third-party. The TCC gear check does not cover rigging equipment.