Saturday's weather bomb turned out to be a fizzer in Western Park - it was just another day at work for the tree climbers in the 2012 NZ Arbor/Husqvarna Auckland Regional TCC.
There where a few showers but they did not dampen the quality of tree climbing on display.
Jawand Nga Chun was at his all-time best, taking out the competition with a preliminary total of 165.65 points beating his nearest rival Johno Smith by a full 14 points. Fatherhood must be agreeing with Jawand - this is the most relaxed he has looked in a competition for some time and the results tell the story.
2011 Rookie of the Year and Rope Wrench master Guy Clark should be well-pleased with his effort - qualifying for the 2012 Nationals in Wellington and completing his first Masters in a Regional competition.
Dale Thomas also makes the cut having been absent from the Auckland scene for the last couple of years. Dale will join office-dwelling David Stejskal in Wellington (David showed he can still push more than a pen at Treescape with his respectable third placing).
Unofficial top five qualifying positions are as follows:
1) Jawand Nga Chun: 165.69 points (Masters 2011)
2) Johno Smith: 151.60 points
3) David Stejskal: 148.80 points
4) Dale Thomas: 144.58 points
5) Guy Clark: 136.95
6) Shaun Hardman: 133.63 points
Out-of-region Nicky Ward-Allen placed just ahead of Guy, completing the preliminaries with 142.24 points.
Jawand qualifies automatically as a Masters climber from the 2011 event - this leaves a space open for Shaun Hardman (another Treescape Auckland climber) at the Nationals in Wellington by Treetools reckoning.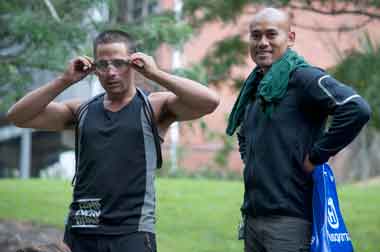 Johno Smith and Jawand Nga Chun seen here towards the end of the day. Treetools will post more photographs on Flickr over the next few days.