The NZ Arbor Top 20 climber ranking system, devised by Neal Harding, has had an overhaul. Essentially, the revised climber ranking system is based on potential points gained in achieving the 'perfect climb' consistently - the final ranking is calculated on the highest points gained over the previous six preliminary TCC climbs.
The perfect score per competition would result in a maximum of 2000+ points but anything over 1600 can be considered pretty damn good. Out of the 339 tree climbs registered in Neal's database only four climbers have reached over 1600 points in any one comp: Scott Forrest twice; at the 2011 ITCC (1688.88 points) and the 2010 NZ TCC (1669.00 points), Chrissy Spence at the 2011 ITCC (1637.71 points) and Ross Kite at the 2010 NZ TCC (1633.02 points).
You can download the latest tree climber rankings. There will be a few surprises (eg the world number one climber Scott Forrest is ranked 12th in the new system) but if you read Neal's explanation thoroughly it kinda makes sense?
NZ Arbor tree climber rankings leader as at December 1, 2011 is Treescape climber Jawand Ngau Chun. And… all of us would have to agree, Jawand can definitely be considered Mr Consistent!
Check the NZ Arbor website for more details.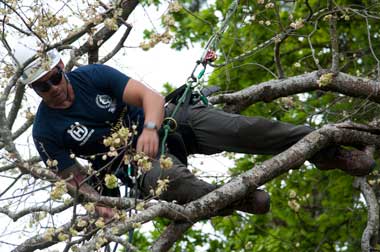 Jawand Ngau Chun climbing at the 2011 NZ TCC Masters in Masterton - Jawand's 'perfect score' to date, under the new ranking system, is 1561.42 points.