As the highest profile, most successful, independent tree climbing team in the history of the sport its little wonder international brand owners are showing a great deal of interest in The Scott Forrest Legends Foundation.
A number of multi-national companies have already approached the Legends Foundation with a view to coming on-board as supporters. Treetools believe the Legends Committee is favoring the idea of a 'product' relationship rather than commitment to the manufacturers brand, not unlike the deal they have Donaghy's. Apparently, the product association is with the Foundation not individual 'Legends'.
This years international tree climbing team are generating plenty of interest in New Zealand newspapers. The Bay of Plenty Times has a James Kilpatrick article scheduled later this week and The Taranaki Daily News will feature Nicky Ward-Allen. Both papers have used the Legends Foundation website as reference.
Financial support from Treetools allowed for the construction of the Legends Foundation website, which is designed as a repository for kiwi tree climbing information as well as sponsor endorsement.
In a separate deal, unrelated to the Legends Foundation, patron Scott Forrest arranged with Donaghys for the provision of Cougar Blue climbing line to the kiwi ITCC team along with stylish black printed NZ TCC tee shirts from Joe Cooper's Rakau (other international competitive tree climbers will want to score one of those kiwi-made, limited edition tee shirts - that's for sure).
All three Legends Foundation Trustees, Scott Forrest, Neal Harding and Rossy Ross will be present at the 2012 ITCC in Portland this coming weekend - no doubt there will be some interesting discussions.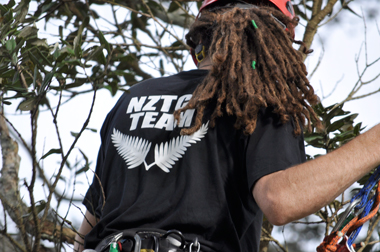 Tree climbing Legend and 2012 Asia-Pacific TCC champion James Kilpatrick sporting the Rakau NZ TCC shirt during a quick training session on Mt Eden yesterday afternoon, just before his flight out to Portland.