Grant Cody and Kiah Martin are to represent Australia in the ITCC scheduled for Chicago, July 2010.
Grant was ranked fifth in the prelims, held on Saturday May 15 at South Parklands in Adelaide, but went on to win the Masters event on the Sunday against some stiff competition including Australian TCC veteran Tom Greenwood.
Interpretation of the rules caused a few moments of concern for Grant. TheSRT bag he sent to the ground had an accessory quickdraw carabiner attached. Rule 2.2.32 says no equipment can be thrown or dropped from the tree otherthan throwlines, throw weights, rope or rope bags. Climbers consider the attaching carabiner to be part of the bag not their life support system but apparentlysome of the judges felt differently.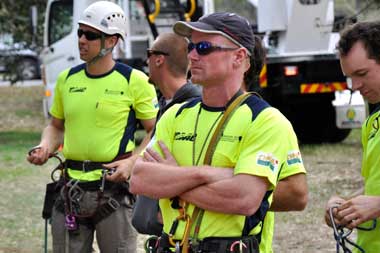 Grant Cody (center) waiting in line for the work climb at the prelims on Saturday 15 May, South Parklands, Adelaide.
.