If you followed the TreeBuzz Rules and Regs thread linked in yesterdays post you will have noted several references to 'Petzl documentation' regarding the use of the Petzl Rig and I'D in SRT work positioning.
One observer stated: 'no other single line device has this kind of documentation'.
Treetools wondered what 'this kind of documentation' might involve so we searched high and low on the net for the Statement on the use of the RIG and I'D in Treecare reportedly issued by Petzl.
The only reference we could find to Petzl's endorsement of the Petzl RIG and Petzl I'D use in SRT Work Positioning is one posted by Mark Bridge on TreeBuzz back in February.
Mark B says the Petzl representative made a 'very clear public statement at the tree care days in Augsburg, Germany'. The Petzl representatives statement resulted in the use of the Petzl I'D in the Aerial Rescue at the ETCC.
However, the term 'documentation' alluded to the TreeBuzz thread above infers there was indeed a 'document' we could all read.
And… it turns out, there is such a !
The Statement issued by Bernard Bressoux of the Petzl Research and Development Department confirms Marks assertions.
"Petzl RIG and Petzl ID can be used for abseiling with or without a back up solution, as long as the user takes into consideration in his own risk analysis these known hazards of the Petzl RIG and the Petzl ID, plus all the other hazards in relation with abseiling and all the other hazards of his specific uses".
As Treetools has stated on numerous occasions before, climber competence with this equipment is paramount!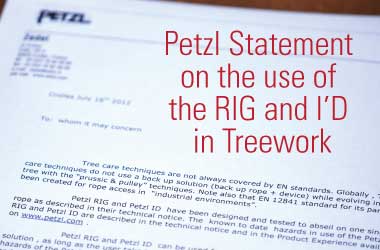 Note: to get the full picture regarding the use of the Petzl RIG and Petzl I'D in SRT Work Positioning you should read all of the Petzl documentation including the User Instructions and Product Experience. It is the complete package of documentation that makes it somewhat unique.