There were a few frustrated tree climbers following Day One of the National competition in Masterton today with a number of Throw Line DQs for high profile competitors including James Kiltpatrick, Shaun Hardman and Toby Kenneally.
Jawand Ngau Chun also took a hit on Throw Line points with a mis-interpretation of the rules (on his behalf).
Apart from these 'minor' clitches, Day One produced some excellent climbing. Queen Elizabeth Park in Masterton has turned out to be the perfect venue for the National event offering plenty of access for the public (to provide moral support) and an overworked coffee machine just across the road.
Three preliminary events were completed today: Throw Line, Aerial Rescue and Work Climb. First five unofficial results are as follows:
Mens Aerial Rescue
1) Jawand Ngau Chun
2) James Kilpatrick
3) Joe Harris (Australia)
4) Zane Wedding
5) Ross Kite
Mens Throw Line
1=) Joe Harris and Tumai Laybourn (final results to be determined on time)
3) Stephen Griffiths
4=) David Stejskal and Zane Wedding (final results to be determined on time)
Mens Work Climb
1) Joe Harris
2) James Kilpatrick
3) Ross Kite
4) Johno Smith
5) Jawand Ngau Chun
Womens Aerial Rescue
1) Veronika Ericsson (on time)
2) Nicky Ward-Allen
3) Nina Black
4) Elena O'Neill
Womens Throw Line
1) Elena O'Neill
2) Veronika Ericsson
3) Nicky Ward-Allen
4) Nina Black
Womens Work Climb
1) Nicky Ward-Allen
2) Veronika Ericsson
3) Elena O'Neill
4) Nina Black
Speed Climb, Footlock and Masters tomorrow, Sunday 23 October.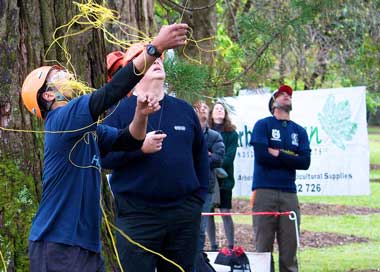 2011 Wellington Regional TCC winner Clay Winter having his fair share of throw line frustration at the Nationals in Masterton, Saturday 22 October.