US-based Treemagineers promoter Taylor Hamel has started a thread on TreeBuzz dedicated to the DMM Rigging Hub - large and small (and it is worth visiting for rigging ideas).
The DMM Rigging Hub has its critics, many of whom question the hubs usefulness (relative to cost) in treecare applications. A lack of product information has probably contributed to this situation.
However, these arguments were put to rest earlier in the month with the release of a video, produced by Taylor Hamel, showing exactly how the hub could potentially be configured.
The TreeBuzz thread will expand upon Taylor's applications presented in his video, with photographs and discussion submitted by fellow DMM Rigging Hub enthusiasts - keep your eye on this one.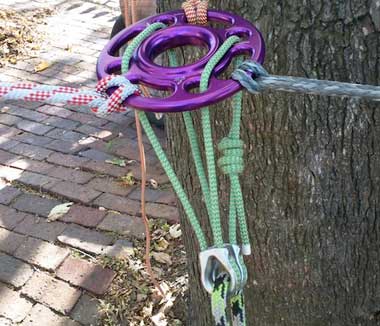 A DMM Rigging Hub set-up as shown on the TreeBuzz thread