NZ Arbor Husqvarna Auckland Regional TCC organizer Craig Webb is looking for help with judging, set-up etc at the 2012 event scheduled for Saturday March 3 in Western Park, Ponsonby – if you can lend a hand, get hold of Craig Webb or Matt Palmer and let them know your intentions. Every little bit helps!
Craig: craig@greenscene.net.nz
Matt: matt@advancedtreeservices.co.nz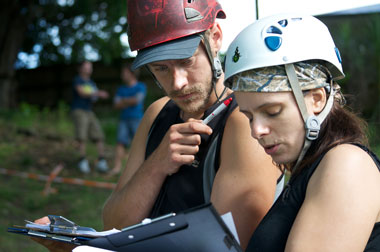 Freddie Hjelms and Marlies Laser managing the Work Climb at the 2011 Auckland Regional TCC in Western Park - also the venue for this years event.