Three times woman's ITCC winner and reigning woman's tree climbing champion Chrissy Spence has announced her retirement from competitive climbing. Chrissy will not compete for the world title at the 2012 ITCC event in Portland.
Chrissy first attracted international tree climbing attention with her runner up position in the 2004 ITCC. She went on to win the woman's title the following year and then again in 2007. This year Chrissy placed first yet again with an inspiring climb at the 2011 ITCC held in Parramata, Sydney.
Over the past eight years Chrissy has won six NZ TCC National titles and in 2010 she held top woman's position in the Asia-Pacific Regional TCC held in Singapore.
With this impressive tree climbing record under her belt, Chrissy has every right to retire with grace.
Treetools understands Chrissy will now focus her considerable experience on helping out at tree climbing competitions and in coaching newcomers to the sport.
Well done Chrissy - we are all very proud of you!!!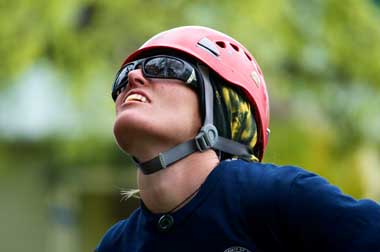 Chrissy Spence judging the Work Climb at the 2011 NZ Arbor/Husqvarna TCC in Masterton, Saturday 22 October 2011.